Moderator: Site Administrators
---
Sweet! We often get threads about the position of the strobe stripe, and there's your proof... thanks for the post!
Bruce Anliker
---
GTX (RS)
Posts: 353
Joined: Tue Jul 07, 2009 8:28 pm
My Cars: 1971 Plymouth GTX, GY9 Tawny Gold
2000 Nissan Xterra
2016 Fiesta ST
other stuff
Location: Atlanta Area
I need full size versions of all of these, please.
1971 GTX, GY9 Tawny Gold.
---
Satellite Sebring (RH)
Posts: 69
Joined: Sun Feb 27, 2011 2:05 pm
My Cars: 1972 Plymouth Road Runner (340 cubic inch 4-Barrel)
Location: MA
Contact:
Wow! Never thought Id find the exact information right in front of me

______
-Tyler
"When everything's coming your way, you're in the wrong lane."
---
Satellite Coupe (RL)
Posts: 1
Joined: Mon Nov 18, 2013 11:13 pm
My Cars: 71 plymouth roadrunner 340 4 speed
I know this is an old thread but has anyone got images where I can read the writing and dimensions as it's all blurry. Also the name of the book this was copied from as well if anyone knows. Thanks.
---
1972 Road Runner N96 EV2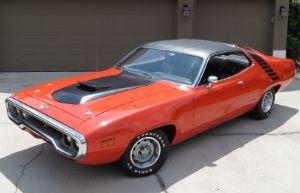 ---