I posted this over on Moparts but thought I would post it here too if any member here doesn't visit Moparts.com
1972 Road Runner V code cars.
The reason I'm posting this topic is to explore the theory that the was a second V code car built and it was the 1972 Road Runner press photo car.
There is only one know 1972 Road Runner V code car (Mopars member Larry D's car)
I will post pictures of it here (I'm assuming that it's OK to post these pictures since Larry posted them here and on other Mopar forums before ... if not let me know and I will delete them).
Here is Larry's known Road Runner RM23V2G105346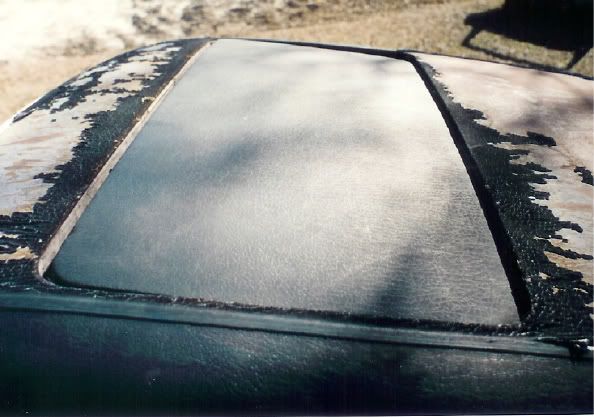 Also the known 1972 V code cars to exist are:
WH23V2G10006 (red)
WH23V2G100075 (yellow)
RM23V2G105346 (red)
Here are my thoughts on the 1972 Road Runner press photo car.
Enclosed color picture of the red exterior and red bucket interior press car.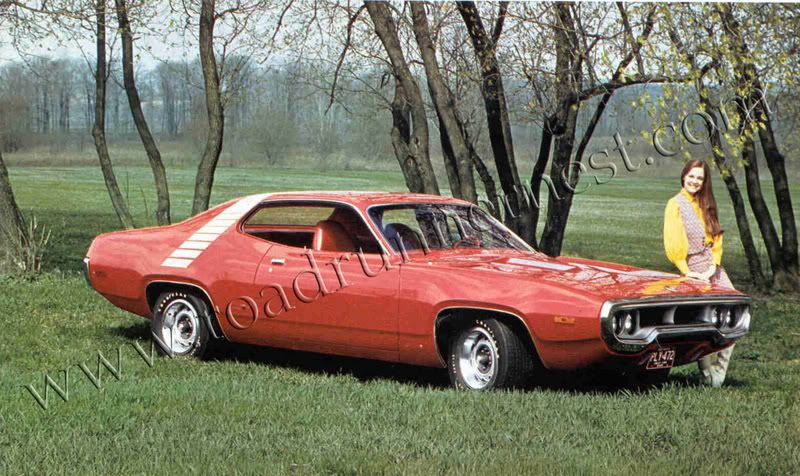 This car is a E87 440+6 4-speed manual trans car.
See enclosed road test of this car.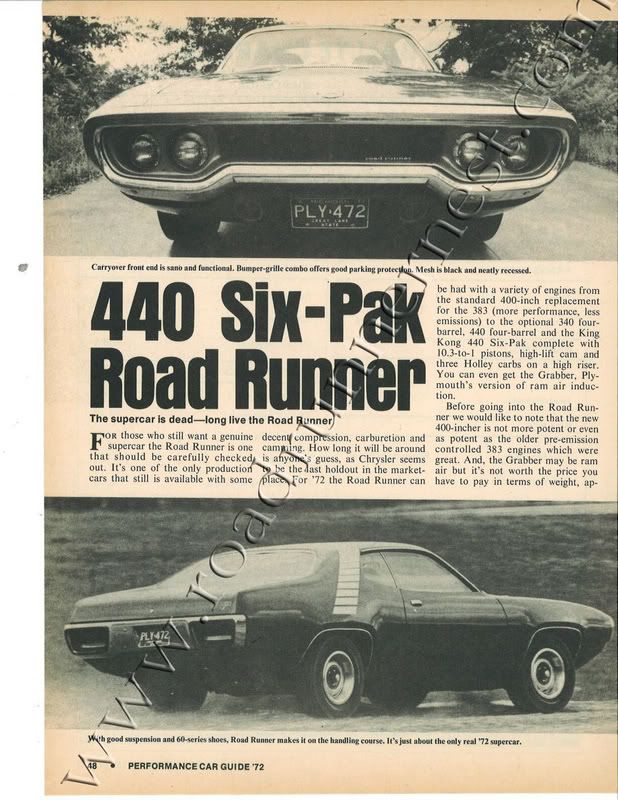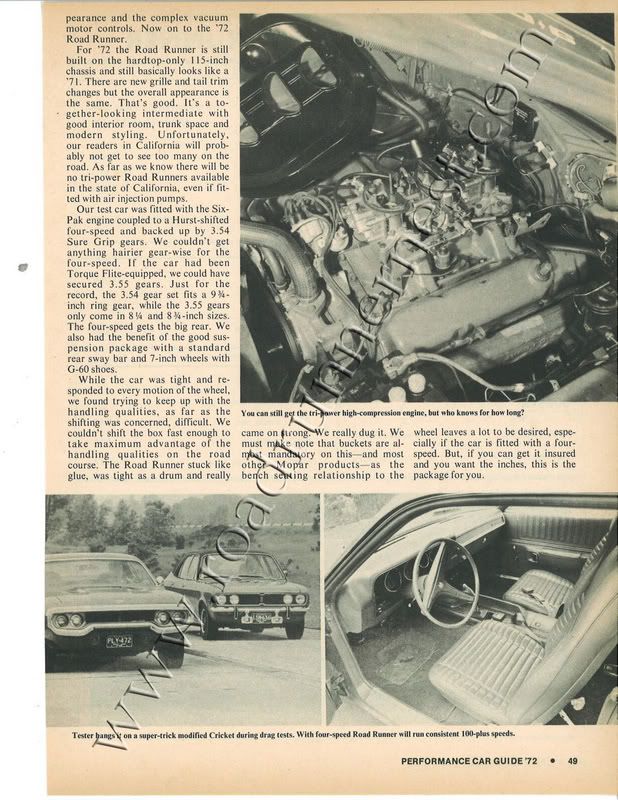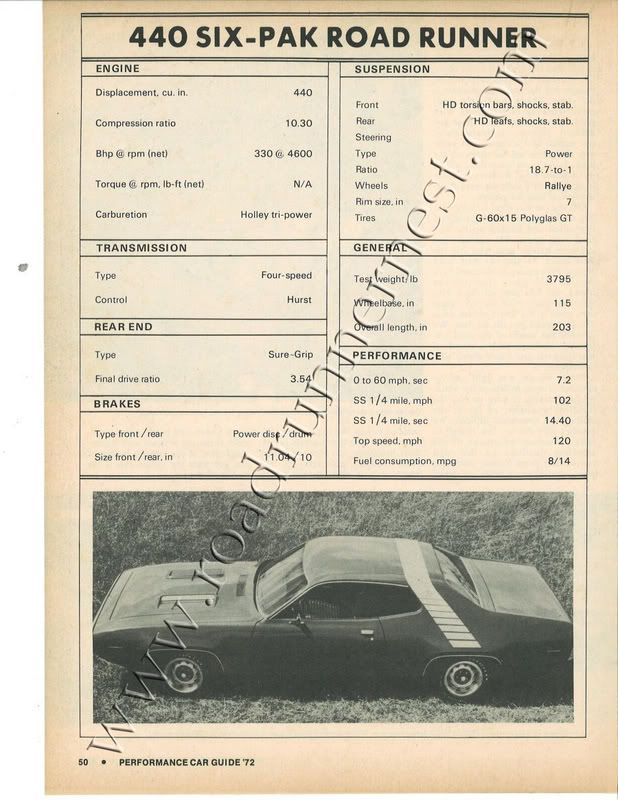 The press photo car was photographed around mid-April 1971at Chrysler proving grounds (leaves on trees just stating to sprout and grass is growing).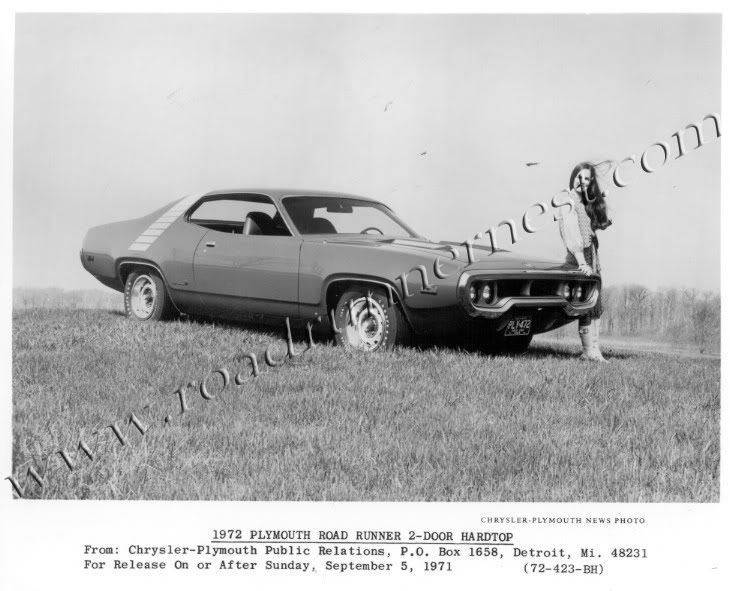 This is WAY before the first car production for 1972 model year on 1 August 1971 (I.E. the first know 1972 E87 car WH23V2G100006 built on 1 August 1971).
Also notice photographs in the road test article (with the Cricket) were taken much later in the summer (leaves on tree etc.)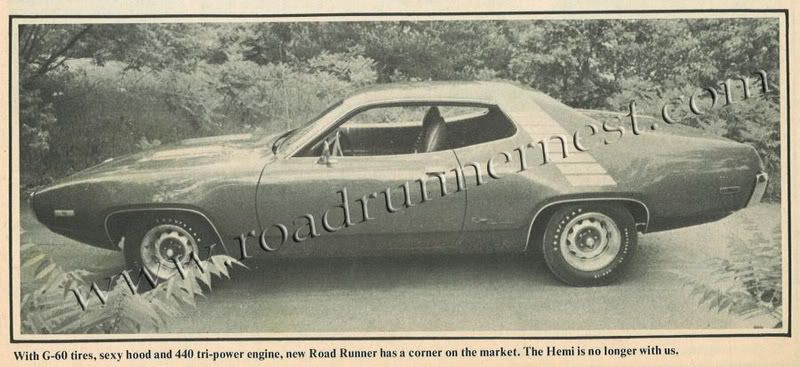 These photos were for release to the media before the 5 Sept. 1971 new car announcement.
The car is probably a 1972 proto-type model with a 1971 drive train.
Note the all red interior that was never offered in a 1971 or 1972 b-body.
Probably a test mock-up of styling designs.
The car has all 1972 exterior body panels and bumpers (with bumper guards).
Notice the standard Road Runner hood call outs are the plain reflective silver ones used on 1972 400 4v cars.
No 440+6 call outs anywhere or GTX emblems that were found on all 440 equipped 1972 RR/GTX optioned car.
Larry's car (I believe he said) had them.
This car has short style decorative exhaust tips used with resonator mufflers found on 440+6 cars.
This car is a 440+6 console 4-speed car … see interior photograph.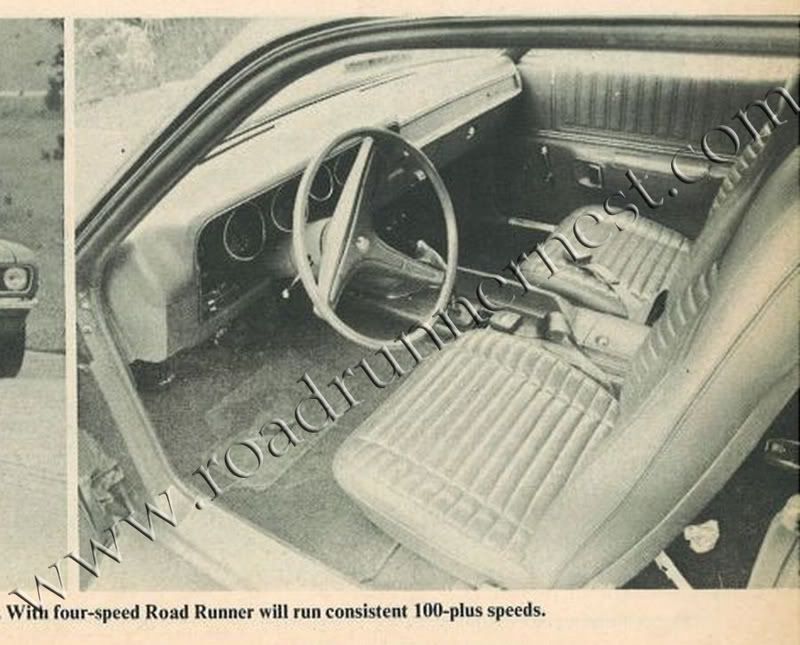 All of my factory info says that 4-speeds were excluded from being an option on E87 cars.
(Note: Galen says all 1972 440+6 cars built were automatics.)
E87 (440+6) engine shows up in the 1972 Option and Accessory report breakdown but no percentage given which mean less than 1/10% made (less than 7 Road Runners for 1972).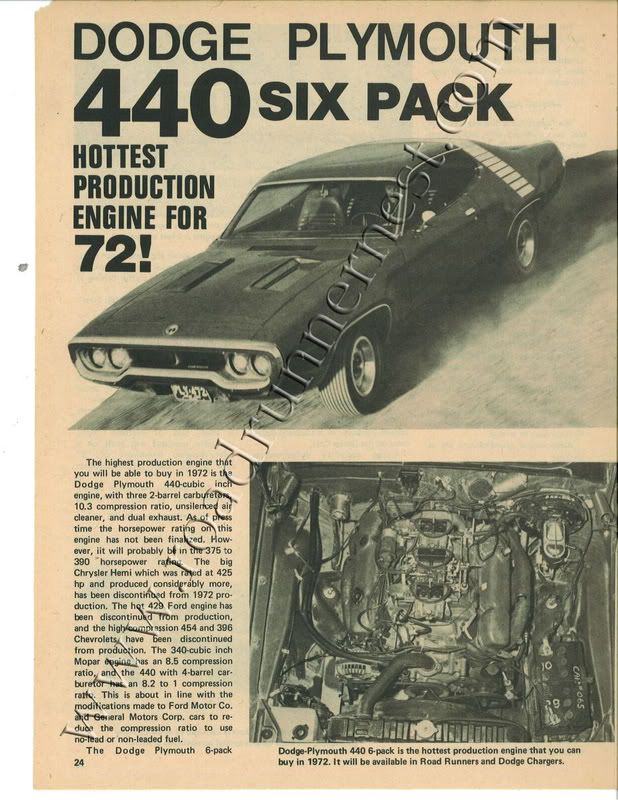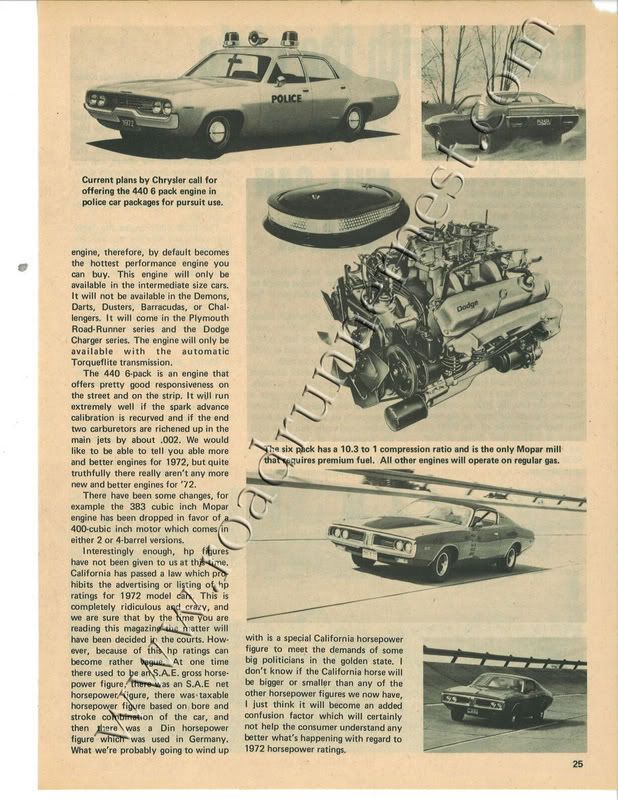 The photos of the engine bays in both articles are not the same engine bays.
One is from the 1971 Road Runner press photo car (EV2 440+6 car with standard hood and 440+6 hood insert call out that can be seen).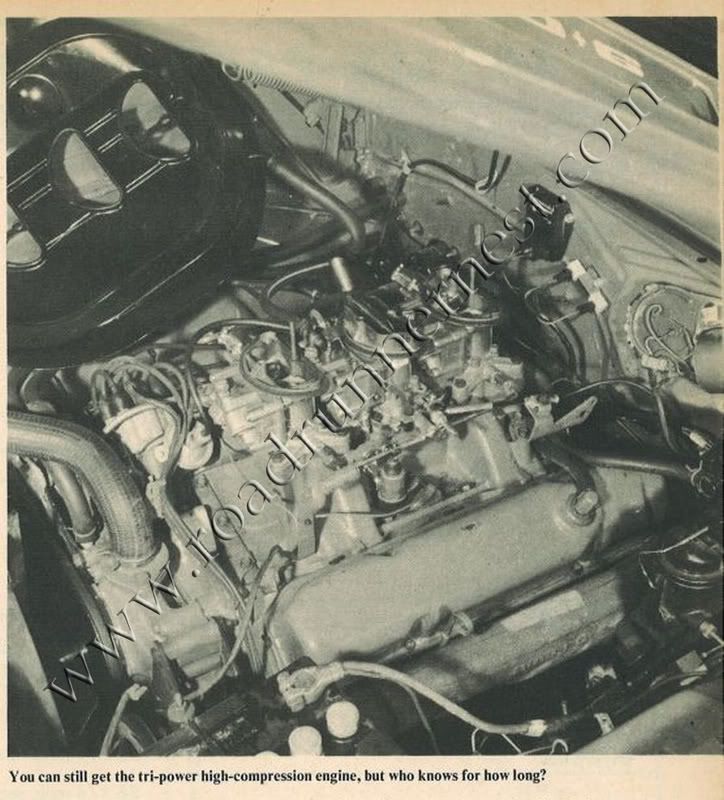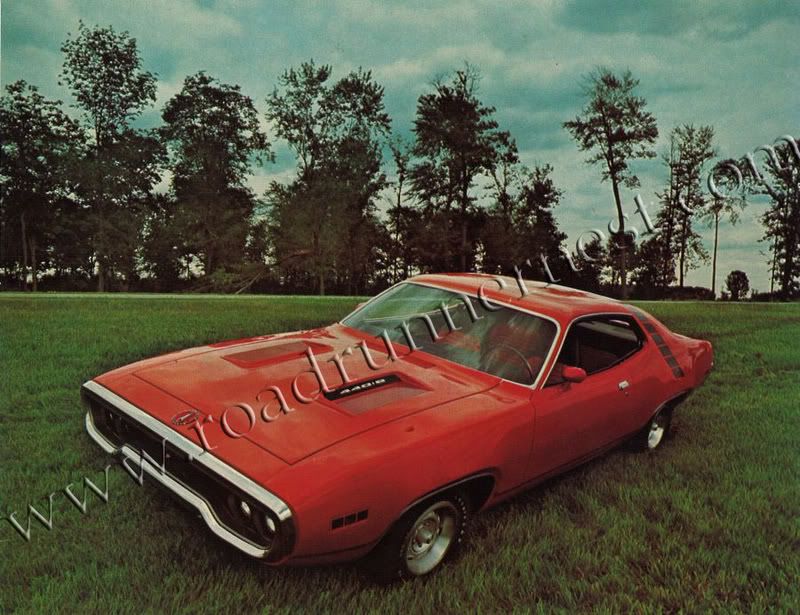 The other is from this 1972 Road Runner press photo car.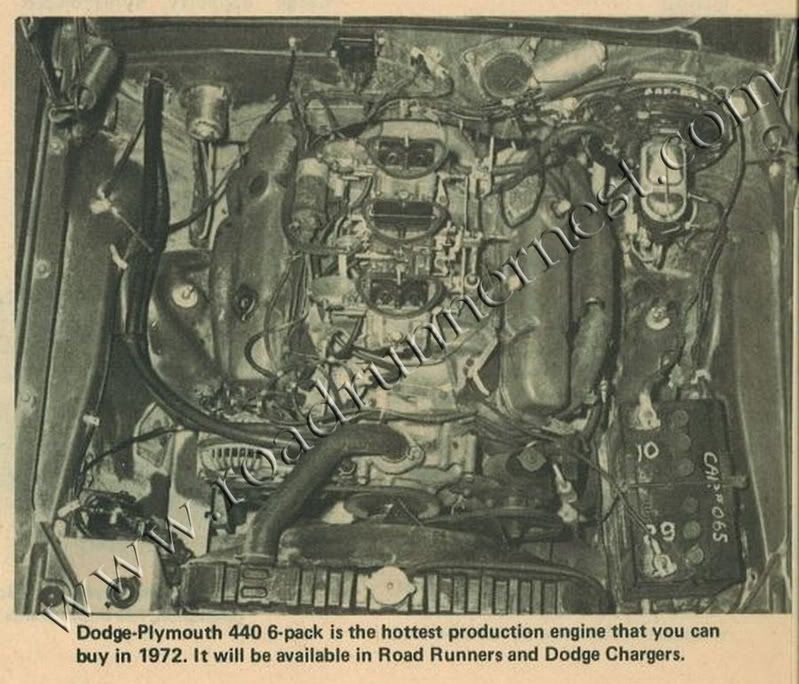 The engine bay have different batteries, brake reservoir caps, ignition wires, the 1972 bay is very dirty for a press shot I.E. road tested car … anything else different about them can you see?
Notice the writing on the power brake booster and battery.
The writing on the battery says "CAR # 065"
The writing on the power brake booster says "CAR ???"
Is there electronic ignition on these engine shots?
1971 style washer bottles.
Horn in the wrong place for 1972 Road Runners.
There is no kick down linkage for this car in the engine bay photo (a 4-speed car).
There is no fender tag or ever holes were it would have been screwed down to the fender well (pilot car).
This a 1972 Road Runner proto-type with a 1971 440+6 drive train?
Then is it a 1972 Road Runners with a 1972 vin number?
Do all Chrysler cars; including pilot, test and proto-type car get vin numbers to keep track of them?
I do not think this is RM23V2G100065 since it was built way before Aug. 1971 to be included in the sequence numbers.
What does "Car #065" mean?
Seems strange that there were a few built the first week of production (first built 8/1/71 and last built 8/7/71) and then no more were built by the September cancellation of E87 engines for 1972 production.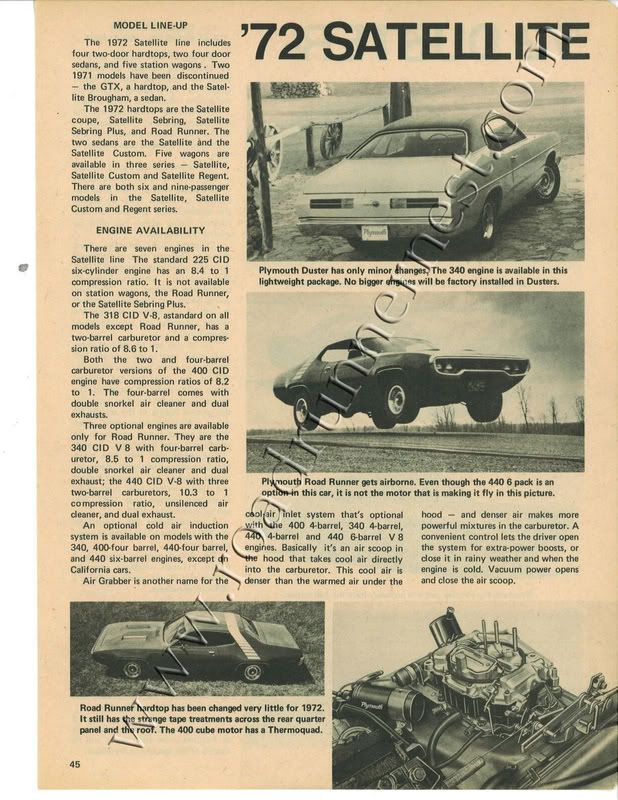 Maybe up to 7 built of 1972 production placed in Chargers and Road Runners.
I've heard stories of people ordering 1972 E87 440+6 engine and when they were delivered they were E86 440 4v engines (with GTX emblems for the 1972 Road Runners).