Just thought I'd register & say 'hey'... been lurking a bit here & there for the past few weeks checking out the site.
I went to look at a 72 Charger not long ago and ended up coming home with a 71 Road Runner instead. We've had a few Mopars in the family over the years, but none for quite a while now & none that weren't "just transportation" at the time. So yes, I'm pretty much a noob in that regard. Bear with me

Anyway, it's fairly rough but solid, and mostly complete aside from the missing 383/auto. Sounds like a good excuse for a 440 with OD to me.
Pic: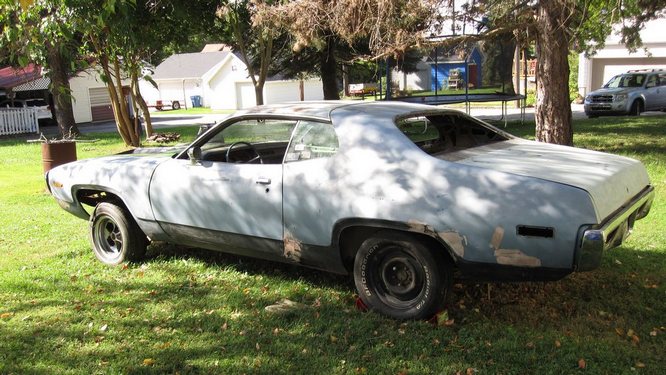 Decodes as...
RM23:
Plymouth Belvedere,Satellite
Medium, Road Runner
2 Door Hardtop
N1G: 383 300HP 1-4BBL 8 CYL
1971
St. Louis, MO, USA
E65: 383 cid 4 barrel V8 300hp
D32: Heavy Duty Automatic Transmission
GB7: Dark Blue Poly Exterior Color
M2B5: Trim - Opt. Decor Group, Vinyl Bench Seat, Blue
GB7: Dark Blue Poly Int. Door Frames
421: Build Date: April 21
V4W: Unknown Top Color (White?)
U: USA Specifications
B11: H.D. Drum Brakes 10in - Auto Adj. (A-Body)
G11: Tinted Glass (all)
G33: LH Remote Racing Mirror
H51: Air Conditioning with Heater
J25: 3 Speed Wipers
J45: Hood Tie Down Pins
M21: Roof drip rail moldings
N41: Dual Exhaust
N42: Chrome Exhaust Tips
R11: Radio Solid State AM (2 Watts)
26: 26in Radiator
END: End of Sales Codes
Don't expect a flurry of restoration activity on this one for a bit... unless I sell my "other car" to finance the build (69 Mach 1). Anyway I thought I would post up a few details and "de-cloak".